Artist-in-Residence at the Château de l'Esparrou Odyssée and Photo Exhibition in France
The residency and financial grant is supported by the
French Ministry of culture and communication
. It allows me to create nighttime photos and to exhibit the resulting work in a one person show. The exhibition will also be in France.
The month spent in around the Nineteenth Century chateau–one of the historic cultural monuments in France–near the
Pyrenees and the Spanish border
, is a continuation of the  long-term project, "
Until the End of the World
."
More than 350 artists from over 50 different countries have already taken part in the program, developing projects in music, architecture, arts and crafts, visual arts, dramatic writing, novel writing, scriptwriting, animated film-making, photography and journalism.
The
Association des Centres culturels de rencontre
(ACCR), is a worldwide cultural network of 44 members across 20 countries and
Centre Culturel de Rencontre
(CCR) provides financial support for the creation of new work. Fellows receive 1,200€ per month and payment of travel fees.
The Photography Project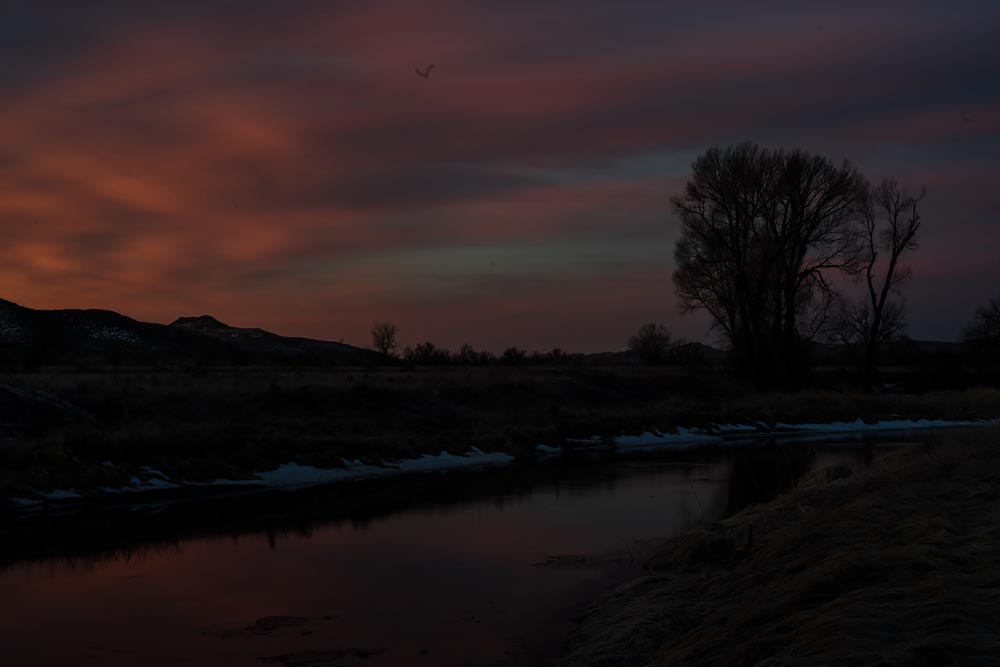 I will continue my nocturne landscape photo project, "Until the End of the World," in the historic
Château de l'Esparrou
, including photographing in the Chateau itself at night and in the surrounding areas, especially in the forests, pathways and vineyards, waterways, and ponds, such as the Etang de Canet-Saint Nazaire–trying to capture a haunting, lyrical feeling of the place at night.
I'll also photograph at the edge of inhabited places where traces of artificial light reveal evidence of people or towns as spectres in the distance. Aiming to make a visual representation of an unfolding emotional experience, I try to capture with light, shadow and color the indescribable quality of mystery.
Working at night requires long exposures ranging from several minutes to an hour or more, making it impossible to see through the camera's viewfinder. Instead I stand beside the tripod "feeling" the image and intuitively, framing the image in the dark.
Additionally, I will start to review, select, edit and color correct about five thousand previous photographs taken over the last several years; review images from a recent night landscape project in
Greenland funded by two grants
to capture melting glaciers; and craft several new portfolios to be printed later as large exhibition photographs and a book prototype.  
The artistic inspiration is loosely based on Barbizon landscape painters, such as
Théodore Rousseau
, others such as Frederic Edwin Church, where sweeping landscapes and atmospheric light illustrate elevated and complex emotions, as well as
the photographs of Eugene Atget and
Eugène Cuvelier.
 Additionally, the project is informed by French, Scandinavian and German cinema (François Truffaut
, Claude Chabrol, Éric Rohmer
; Ingmar Bergman and Rainer Werner Fassbinder), and films my father would bring home to play in our darkened basement.  
The last several years have been extremely active and productive. Artist fellowships residencies and funding by grants, the night landscape series became more emotive
and included subtle references to artificial light as well as references to nineteenth century art and photography.  The residency at
Château de l'Esparrou
allows me to take these ideas further.
Additionally, time spent working uninterrupted and having a studio–something I've not had since graduate school or as a fellow at other residencies–is crucial to support both the creation work as well as to develop future exhibitions. I am excited by the prospect to expand my creative career that the Château de l'Esparrou Odyssée Artist-in-Residency
Program
allows.
About the Supporting French Organizations, Association des Centre culturel de rencontre and Centre Culturel de Rencontre
The project involves two governmental agencies. The Association des Centre culturel de rencontre promotes cultural diversity; the Centre Culturel de Rencontre (CCR) supports many artists, researchers and cultural professionals.
Association des Centre culturel de rencontre initiates, coordinates and shares projects within it's network in Europe, acting as a central place for various joint cultural projects. Each year it puts together a series of thematic programs focused on cultural, heritage, technological and economic trends to connect to audiences, culture and tourism.
The Association des Centre culturel de rencontre (ACCR) also is platform for regional, national and international projects, throughout Europe, such as Culture Action Europe and by participating in structured dialogue (Access to culture, Intercultural dialogue).
Finally, ACCR is also a resource center, linking various programs and sharing information on innovations and inspiring initiatives, playing an important role in European culture, historic places, tourism, and culture.
The
Centre Culturel de Rencontre
(CCR) supports many artists, researchers and cultural professionals coming from countries other than France, including:
Morocco, Tunisia, Egypt, Libya

India, China, Korea, Japan, Singapore, Afghanistan

Argentina, Chile, Brazil, Mexico, Ecuador, Peru

Quebec, Canada

Haiti

Iceland, Macedonia, Montenegro, Serbia, Turkey, Albania, Bosnia and Herzegovina and Kosovo
About the Château de l'Esparrou, France
Château de l'Esparrou
was commissioned by Joseph Sauvy, the ancestor of the current owners, and was the was the first building in the Roussillon region by Danish architect Viggo Petersen Dorph. It was completed in 1891. A holiday home and residence for part of the Sauvy family, the castle of Esparrou was at the heart of a vast area of vineyards and woods. It was home to many artists in the first half of the 20th century, and became over the years a family home, although many artists are welcomed during festivals, such as the Prades Festival.
I look forward to creating new work here at the
Château de l'Esparrou to exhibit the photographs in a one person show resulting from being an Artist-in-Residence and fellow there.